It is strange to think that I almost DIDN'T go on exchange. It has become such an integral part of who I am as a person and who I will be in the future. So if you have any doubts, DO IT ANYWAY.
Going on an exchange you're definitely going to grow and learn about yourself, you gain responsibility and independence. You learn things are tough, but you work through it. I feel going on the this exchange opened my eyes to things I have never seen and heard about.
Rotary Youth Exchange builds peace one young person at a time
Students learn a new language, discover another culture, and become global citizens. Exchanges are for students 15 to 18 1/2 years old. Whether you participate in Rotary's long-term or short-term exchange programs, you will be an ambassador, learning from people you meet about their countries, cultures, and ideas and sharing yours with them. You can help bring the world closer, and establish life-long friendships in the process.
Rotary Youth Exchange is a program through Rotary International, which includes 1.2 million business and professional leaders in more than 33,000 Rotary clubs in over 200 countries and geographical areas. The members of these autonomous clubs, Rotarians, volunteer their time and talents to serve their local communities and the world. Approximately 100 Rotary clubs worldwide participate in Rotary Youth Exchange with the goal of bringing peace to the world one young person at a time through exchange.
Rotary and our District value diversity and celebrate the contributions of people of all backgrounds, regardless of their age, ethnicity, race, color, abilities, religion, socioeconomic status, culture, sex, sexual orientation, and gender identity and are committed to inclusion and diversity. We celebrate multiple approaches and points of view, as we want to build a culture where difference is valued.
Visit Rotary International online!
For detailed RYE information please see the Rotary International RYE Handbook.
What are the benefits?
Exchange students unlock their true potential to:
Develop lifelong leadership skills
Learn a new language and culture
Build lasting friendships with young people from around the world
Become a global citizen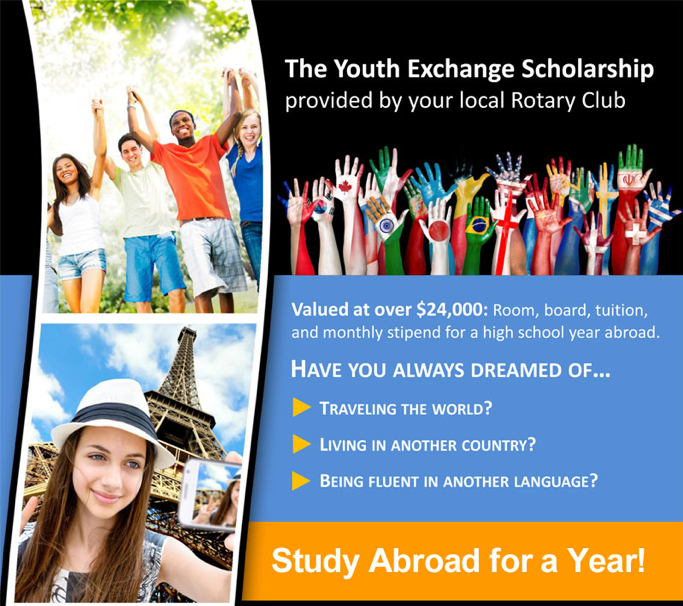 What College Admission says about Youth Exchange:
"As an Admissions Counselor and former RYE Exchange student, I know my colleagues in higher education - and specifically admissions – see international exchanges as valuable opportunities to transcend the traditional classroom experience. At a time where American universities are scrambling to diversify their campuses and create global communities that better reflect our hyper-connected multicultural world, applicants who have participated in exchanges are at a premium."
Rotary District 5180 in the Greater-Sacramento Area:
Rotary District 5180 is located in Northern California and provides RYE students, 15 to 18 1/2 years old, with the opportunity to live abroad. Students do not have to be from Rotarian families. All RYE students live with approved Host families for three (3) months and have, on average, three (3) different Host families during their 9-10 months on exchange. Exchange students are required to attend and study in a foreign high school for 9-10 months, while experiencing and learning the language and culture of the host country.
RYE is a two-way exchange between Rotary Districts, i.e. one of our students goes to Belgium (Outbound student) and we receive a student from Belgium (Inbound student). Our District coordinates with each local Rotary club and their sponsored Outbound student's family to secure Host families for Inbound students coming to the Sacramento area for their educational exchange in the USA.
For more details and resources go to our About Us pages on this website.
Application Process
Contact your local Rotary club to explore them being your Sponsor club for your Rotary Youth Exchange year. Click on the link below or go to Volunteers, Club Presidents on this website.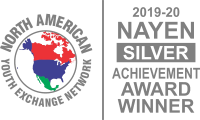 Due to COVID-19 District 5180 has made the difficult decision to suspend our 2020-21 exchange program. We plan to offer a new Virtual Exchange opportunity (see below) and are hoping to offer Short-term Exchange (STEP) opportunities in Spring of 2021. Please check back after February 2021 for any STEP updates. Details for the Virtual Exchange can be found by clicking the Learn More button in the Virtual Exchange announcement below and more Information for the normal STEP Program can be found under Outbounds Short Term in the menu above.
ANNOUNCING NEW VIRTUAL EXCHANGE OPPORTUNITY!
Students 15 – 17 are eligible to participate in District 5180's NEW 7-week Virtual Exchange program. You will be matched with a student from another country to learn about their culture and country via a one-hour, weekly Zoom meeting. You will be hosted by one of D5180's Rotary Clubs and will have a Rotarian mentor. Additionally, Group Meetups will provide you with the chance to personally hear about many, many cultures and traditions. There is no fee for you to virtually travel in another country, via your matched student, and you can provide them with the same experience here! To apply click on this link: https://yehub.net/W18-stapp There will be sections on the application you won't need to complete as they apply to an in-person normal STEP exchange. It will be obvious which sections these are when completing the application.
Application Deadline: February 2nd, 2021
Program Cycle: Feb. 13, 2021 - Apr. 2, 2021
Upcoming Events
RYE Committee meetings will be virtual using Zoom until further notification. Zoom invitations will be emailed to all RYE Committee members. Meeting schedule is as follows:
2021
February 10th
March 10th
April 14th
D5180 expects to provide normal in-person short-term and long-term exchanges during the 2022-23 Rotary year. Short-term application deadlines will be announced when COVID restrictions are lifted. The Long-term exchange application deadline will be during October 2021. Refer to the Long-term exchange page on this website for details.