Outbounds - Frequently Asked Questions
Got a question? See our frequently asked questions below. If you can't find what you are looking for, please contact us at outbound@rye5180.org.
Students reap many rewards from an exchange experience, including:
Serving as an ambassador for their country and community
Benefiting from immersion in another culture while adapting to a new way of life
Making lifelong friends, not only within the host country but also with other students from around the world
Learning about the practices and accomplishments of people in other countries
Returning home with a greater sense of the world and a deeper understanding of themselves and their culture
Assuming leadership roles shaped by lessons from the experience
Building memories that will be with them forever
Long-term: This exchange is open to students ages 151/2-18 and usually lasts 10-12 months. Most students are 16-18 years old during their exchange year. Students typically live with two or more host families in the host country and are required to attend high school.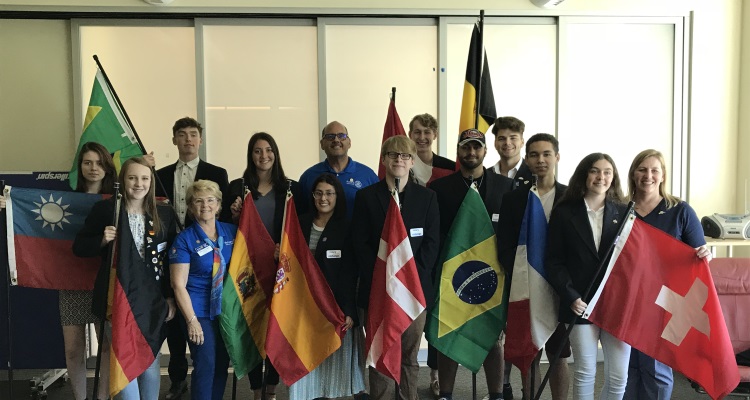 Requirements and Eligibility
Exchanges can occur between any two countries that are certified to participate in Rotary Youth Exchange. Rotary clubs in approximately 65 countries and regions annually sponsor or host Youth Exchange students. District 5180 regularly exchanges with approximately 15 countries and is actively exploring relationships with others.
Prior to your district interview in November, you will be asked to submit five countries you would like to be considered for. Only age available countries will be open for your selection (if you are too old or too young for a specific country it will not be available for your selection). You will also have an opportunity to select countries you do not want to be considered for; an unlimited number will be available to you. However, the district committee will ultimately make the decision regarding the country where you will be placed. It is important to remember that this program is about the experience of studying and living abroad and not about the specific country where you will go.
Application and Acceptance
While room and board for the exchange are provided by the host family, the student and the student's own family assume certain financial obligations. Most of these costs are included in the "one-fee," but others are not. The one-fee covers round-trip air transportation, a Rotary blazer, basic medical and travel insurance and other misc. expenses. The host Rotary club will provide a modest monthly allowance and will cover the student's school costs for all required academic programs. Detailed cost information can be found on the program information page.
Although Rotary International offers support to local Rotary Youth Exchange programs through publications and suggested guidelines, Rotary districts and clubs run their programs independent of Rotary International. Therefore, each club or district program will have its own specific rules for students to follow. Students accepted into the program sign and agree to abide by a list of program rules prior to their departure from home. While the hosting Rotary club will discuss all program rules with you, you and your parents may wish to review the program rules to be sure that everyone has a clear understanding of what is expected. Program rules generally consist of common-sense stipulations, such as no consumption of drugs or alcohol, driving of motor vehicles, and the need to obtain special permission for travel while on the exchange. Most Rotary districts do not allow exchange students to travel alone or only with other students. Students will be provided with a complete list of District 5180's rules during the application process.